Radiological Preparedness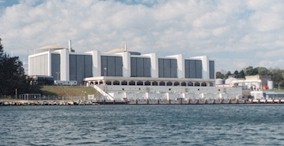 Calvert Cliffs Nuclear Power Plant
Talbot County has the potential to be indirectly affected by the Calvert Cliffs Nuclear Power Plant (CCNPP). If an incident occurs at the plant that results in the release of radioactive gasses or airborne materials, two zones would be involved that could require certain protective actions to be taken.
(a) The 10-mile radius "Plume" zone which includes no part of Talbot County.
(b) The 50-mile radius "ingestion" zone wherein food, livestock feed, milk and water might have to be protected or their use curtailed temporarily in order to protect residents from long-range effects of radiation, no matter how slight it might be. The "ingestion zone" affects all of Talbot County.
The staff of CCNPP takes extreme safety measures to avoid accidents and put citizens in harm's way. Some of the key safety measures taken are:
Contain offsite release of contamination as much as possible to prevent off-site health issues.
Ensure that heat generated by the reactor is removed.
NOTE: A nuclear power plant CAN NOT explode like a bomb.
The Talbot County Department of Emergency Services has an up to date plan on how we would deal with a potential leak from the Calvert Cliffs Nuclear Power Plant. It is reviewed internally each year and a table top drill is held with representatives from the Maryland Emergency Management Agency and Calvert Cliffs at their discretion to review and make any necessary updates to the plan.