Flood/Heavy Rain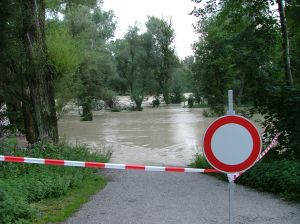 Heavy downpours and extended rainfall can cause flooding and flash flooding. Flood Forecast means rainfall is heavy enough to cause rivers to overflow their banks. Flood Warnings of impending floods describe the affected river, lake or tidewater, the severity of flooding (minor, moderate or major) and when and where the flooding will begin. Flash Flood Watches mean heavy rains that may cause sudden flooding in specified areas are occurring or are expected to occur. Understand that a flash flood can occur without any visible sign of rainfall. Be alert to this emergency as it can call for immediate action.
During a Flood
If Indoors:
Listen to battery operated radio.
Gather your emergency supplies.
Move valuables to second floor.
If told to evacuate, do so immediately.
If Outdoors:
Climb to high ground and stay there.
Avoid walking through flood waters. Water 6 inches deep can sweep you off your feet.
If In a Car:
Do not drive through water on the road.
If your car stalls, abandon it immediately and climb to higher ground.
During an Evacuation
If advised to evacuate, do so immediately.
Leave early/follow recommended routes.
Listen to battery operated radio.
After the Flood
Flood dangers do not end when the water begins to recede. You will be advised via emergency announcements on radio/TV when it is safe to return home.
Inspect foundation for cracks, damage.
Stay out if water remains around house.
When entering, use extreme caution.
Wear sturdy shoes.
Use battery operated laterns/flashlights.
Watch out for animals, snakes, using a stick.
Watch for loose plaster, ceilings that could fall.
Take pictures of the damage for insurance.
Look for hazards/leaking gas lines.